We provide a unique matchmaking service and invite to call in to our office for an OBLIGATION FREE coffee & chat.
Free Review
10th September 2019 - "Dear Viola, I hope you are well. I wanted to let you know that I proposed to Michelle on Saturday, which was our 1 year anniversary, and she said yes. We are both very excited to be getting married and are looking forward to planning the wedding. Thank you for bringing us together. Best wishes, Mark."
27th August 2019 - "...I know it's very early days but wanted to say many thanks to both you and Vi for looking after me so well. K."
8th April 2019 - "Just to compliment your great service and say thank you for allowing me to stay on the guest list. I have found the older style matching has a charm and flair around the process. I have always promoted Solutions in a positive light. And will continue to do so. The guys I have met are all decent and genuine looking for the right partner. So thanks again I do appreciate the matches I receive. 😊😚☺💙💜 W."
29th March 2019 - "If you want to find a soul mate, all the staff at SOLUTIONS are professional at being able to do that! Your very good friends Harold and Leeanne."
26th March 2019 - "I joined solutions about February 2017 after a lot of negative thoughts and lonely times. After talking with Viola she put my mind at rest and assured me there is some one out there for everyone. I met some lovely men, then I met my partner Steve. The moment we met it was like we had known each other for a long time. That was 2 years ago. We have so much in common and we are looking forward to a long and happy future together. Thank you Viola and her supportive team. We are so happy. J & Steve"
19th March 2019 - "We are a mature age couple and its not always easy to find like minded people but with Solutions help we found each other. The team at Solutions were very sensitive, caring, understanding and were continually in contact with us. We are very thankful to Solutions for putting us in touch with each other as we are very happy together. In the time we have known each other we have found we have a lot in common , in particular we enjoy travel and have planned a few overseas trips This year. Its time to enjoy life and have fun!! Thankyou Solutions. From Kerrie and Royce."
15th March 2019 - "Hello 🙂 I'm just writing to say a big thankyou for your kindness and help and just niceness through out my experience with u and your company. I have been lucky enough to randomly meet and start a relationship with a young lady outside of your system but that's no bad mark on any of u . Your friendliness and just supportive way made my experience with u all nothing short of a joy and I will definitely be putting your name forward to anyone I come across looking for love. Thankyou again I hope u have a nice weekend. S."
13th February 2019 - "Dear Solutions, As a senior, I feel safe using Solutions Matchmaking to meet met who are looking for a woman for company at outings, and maybe more. The staff have given me personal attention, and treated me with courtesy and respect, rather like a personal acquaintance. Thank you Solutions, you really are the solutions for me! Cheers, Elizabeth"
20th December 2018 - "Thankyou Rhian Merry Christmas to you and Vi it's going to be a great Christmas. Thankyou for introducing K to me he is a lovely partner. All the best for the new year. M and K x"
18th December 2018 - "Dear Vi, you will always hold a special place in our lives for the role you played in ensuring that our paths crossed. Wishing you the very best of Christmas. Warm regards, M & M."
30th October 2018 - "Hi Rhiain, I would like to thank you and Vi for what you have tried to do for me... your form of matchmaking is excellent and I recommend Solutions to anyone, I have felt very comfortable with your system... thanking you both again and wishing you the best in the future. Kind regards, K."
23rd October 2018 - "I really appreciate your style of engagement, and the seriousness and sincerity with which you undertake your business model. It comes across quite clearly to me.... I will be very happy to refer clients to your service" R.
26th September 2018 - "I am very grateful for you having introduced M and I. I have seen M everyday since we first met... except for two days. M is magnificently magnificent. Kind regards, M."
5th September 2018 - "Dear Viola, In 2006 through your dating agency we had the opportunity to meet one another. We married in 2008 and have had a lot of adventures together since including a short spell of living back in New Zealand. Back to Australia we came in 2016 and toured this vast country in a motor home. Returning to Perth we experienced some House Sitting and now have settled in Rockingham. I have to thankyou for the opportunity of meeting each other. Although at first it is so difficult putting ones self out there, so to speak, it was so worth the risk. Thankyou Viola. B and T."
4th September 2018 - "Hi Rhiain, A and I are delighted to let you know that we were married at Sittella Winery, Herne Hill, on 25 August. Thanks again for introducing us. Regards, D and A"
31st August 2018 - "Thank you for your help it is very much appreciated. You do an amazing job and I will recommend you to my single friends. Kind Regards, T"
19th July 2018 - "Hello Vi & Rhiain, I would like to thank you both for our match up. It is 6 months since we met and have enjoyed each others company a lot. R."
18th May 2018 - "I have realised that I never properly thanked you for my 'match'. You aligned me with J around May last year and she is a great loving person. "Thank you Vi" Take care, R"
7th May 2018 - "Thank you so much for all the gentlemen you introduced me to. Unfortunately, none resulted in a romantic connection, but it was wonderful for the experience and practice communicating with men... I've met some really nice men, but am still looking for a special someone that could evolve into a romance. Thanks heaps, L."
22nd March 2018 - "Hello again Viola and Rhiain, A and I are delighted to announce our engagement. Our wedding is planned for 25 August 2018, so we are busy making arrangements. Regards, D & A"
15th March 2018 - "Recently I thought I better pick up the phone in gratitude for putting me in contact with Cheryl. Well as you can probably tell by these photos (not published) we hit it off pretty well! Such was our instant attraction and certainty that we had found each other at last.
We have often told each other it was fate that we would meet one day somewhere. Maybe at a concert or the park – it turns out we were at many events at the same time but hadn't had the fortune to meet. But in reality it was actually you guys that made it possible. Thank you so much for joining the dots and getting it so right! Now happily married, with fantastic kids and an adorable but very naughty doggy, we feel so blessed, and very thankful.
Kindest Regards,
Chris & Cheryl"
12th March 2018 - "I am feeling wonderful. A workmate who had transferred to another department and came back for drinks last Friday said I look happier and was 'glowing'. I put it down to the fact I am getting out and enjoying myself. I am having a lovely time with the gentlemen you introduce me to and although none are potential romantic partners yet… I'm not in a rush and the confidence I am gaining after each meeting is a bonus…. Thank you so much from L"
21st February 2018 - "A and I found we have a lot in common, we both have met members of each other's families who wish us the best of luck for the future. We hope our dream does not end. R"
31st January 2018 - "Things are going really, really well with B at the moment.. I'm really happy and enjoying his company and companionship. How long for? I have no idea. Let's just take it one day at a time..... Currently I think he's gorgeous and the best thing that has happened to me for decades and I think I have something to offer him. S."
5th December 2017 - "I would gladly recommend your services to others and I just listened to your new radio commercial on Curtin FM this week. Solutions provides a very valuable service and should be congratulated for that. Cheers, B."
1st December 2017 - " Thank to you and Vi for all your services and your unique matchmaking skills and insights on what makes two people a possible match. I'm delighted with what you've both done for me! Sincere, B."
28th November 2017 - " In regards to our loving and committed friendship... we continue to share love and commitment as we further discover our mutual likeness and I would hope we grow old together. Thank you and have a great day, D and Y."
27th November 2017 - "Thanks to you, we got married in Japan this June. After that, we went on a trip about two month by Golden Princess from Osaka to Sydney. We are living in Margaret River now with too much happiness. We say again for many thanks. Kind regards, A and R."
24th November 2017 - " A. and I will be celebrating six months since we first met next week. Regards, D."
23rd October 2017 - " All going well with D. It may have taken 20 months but I feel I have found someone special. D feels the same way, too. Regards, T."
28th April 2017 - "Everything is perfect with A. I've truly met the most wonderful, amazing guy and I look forward to our future together. B."
17th January 2017 - " Your professional eye made a union from two pieces of Pie and with a silver tongue guided a match. And now with chemistry clicked and boxes of compatibility ticked. It's a wonderful thing to report, that now a lasting bond is the retort. So hugs and kisses should not be just for us, but also for you Vi and your trusty team for seeing the reality of a dream. And now a perfect Pie is healed and lavishly creamed for a future sealed. With gratitude from P and G."
7th December 2016 - "Thank you for introducing M and I as we have been together ever since we met and are very happily married. Kind regards, Mrs P.C."
13th February 2014 - " We are very happy indeed. Thank you so much, we could not have done it without you. Cheers, P and D."
22nd November 2013 - " Thank you for all your help in my search for a partner. I met a lot of really nice men. I have met and found my partner. His name is M. I will not require any more assistance. Thank you again for your help. Yours sincerely, J."
8th November 2013 - "I have been seeing R. since 21st August (our first date) and am absolutely the happiest I've been in ? (forever). So thank you very much and if it turns out to be a 'happy ever after' story we'll send you pictures of the wedding. Cheers, J."
27th July 2012 - "Myself and J. are very happy together and are planning a very bright and happy future. You're the best. L."
8th May 2012 - " Just thought you'd be interested to know that myself J married my first match S last week on 26th April. We are very happy together. Kind regards, J"
6th September 2010 - "I have fallen head over heels in love with J. She is an absolute delight. We are sharing so much together and loving every minute of the journey. I am the happiest I have been for the best part of 10 years and am determined to make the relationship work. I am proud to have her by my side!! The wait was worth every second. Thank you for encouraging me to persevere!! I owe Solutions "big time"! Sincere regards, S."
29th April 2004 - "Our hopes were entrusted into your hands. Your caring enthusiasm has brought us together like two needles in a haystack. We wish to thank you sincerely from the bottom of our hearts for the way you bring care to your profession. All the very best to you. C. & D."
15th March 2000 - "I was hoping to meet a tall dark and handsome farmer... charming and kind with similar interests as myself...(horses, horses, horses..._ Well, thanks to you, I met him on about my third contact through you, but I wish to say you made a mistake somehow as I asked for a non smoker... and the man I met smokes 30 a day! Anyhow, I do forgive your error as we are very much in love, happily married, with a gorgeous 10week old daughter. We both say we wish we had met each other 20 years ago, but, better late than never. Cheers and best wishes, A and I."
27th February 2000 - " Thank you for the introduction in December to J. We are very happy together and in February we became engaged. We plan to marry sometime around September. Once again, thank you. All the best, J and J."
16th April 1997 - " Just a short note to thank you. In August 1995 I joined your service and my first contact was C. We met on the South Perth foreshore and since that day we have had a beautiful friendship and relationship. We have been engaged for some time now... I was a first time lucky and consider my money very well spent. once again I thank you. T."
23rd July 1996 - "K and I would like to let you good ladies know that we have just got married. Thank you for making it possible for myself to meet K. Regards and all the best, H."
See below for more testimonials. Please click on the thumbnails to view in full size.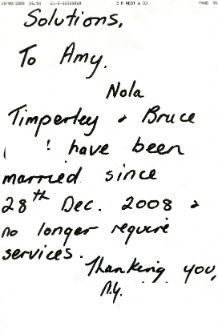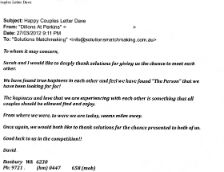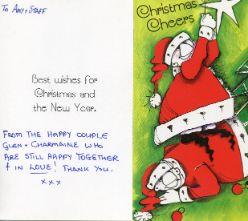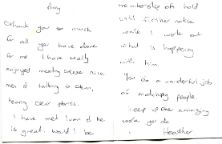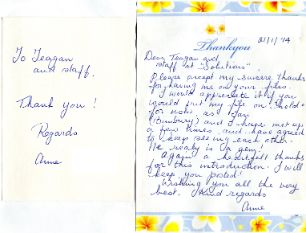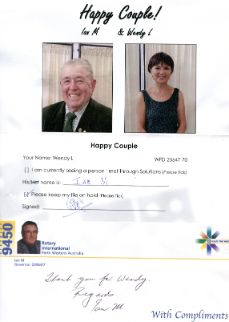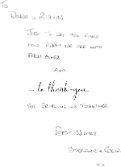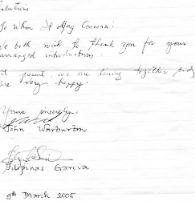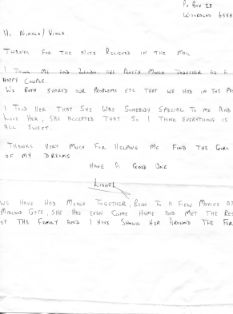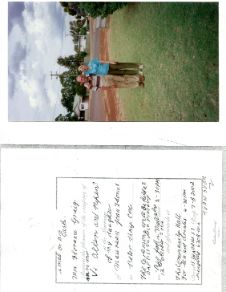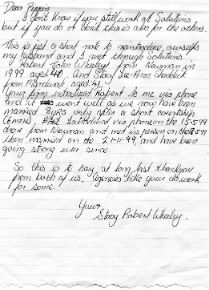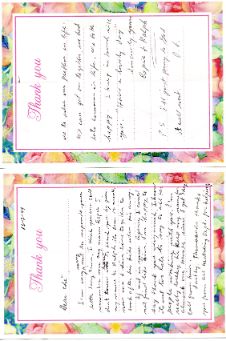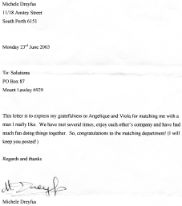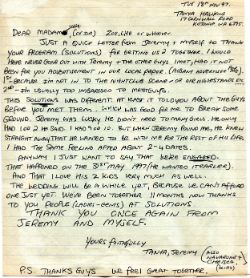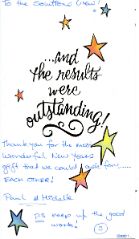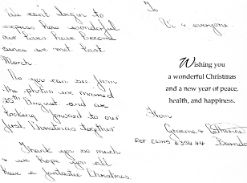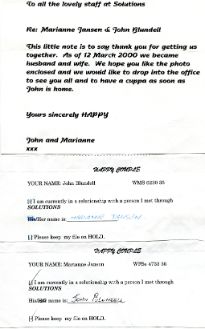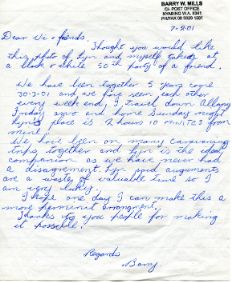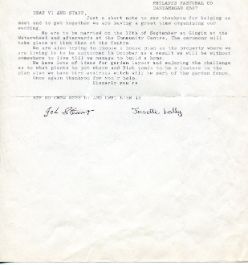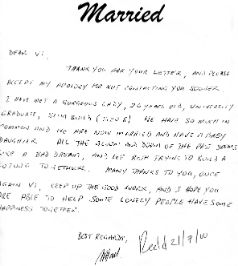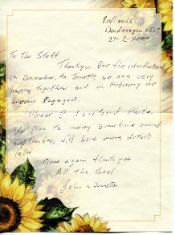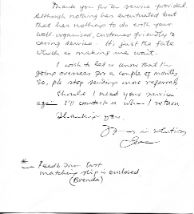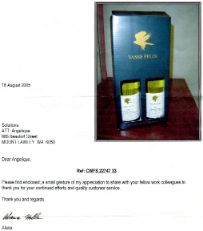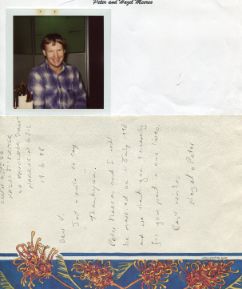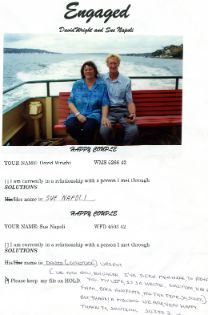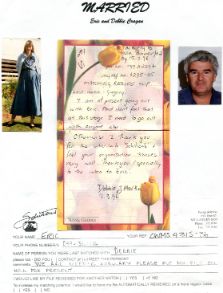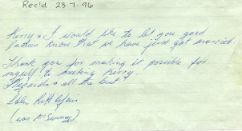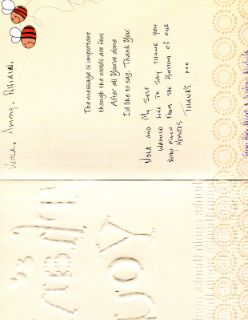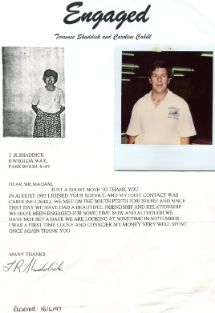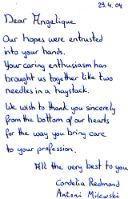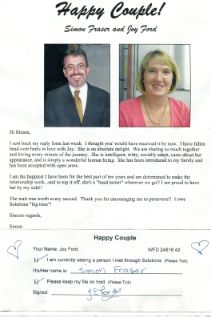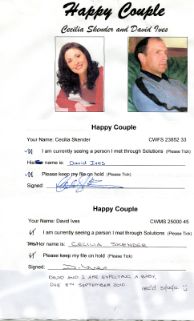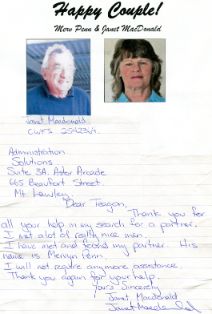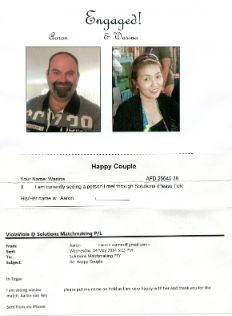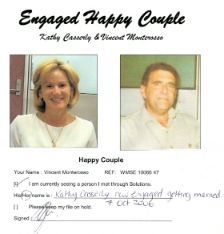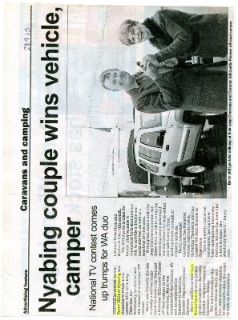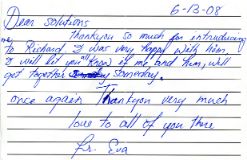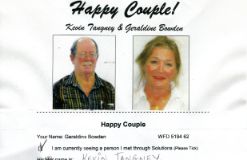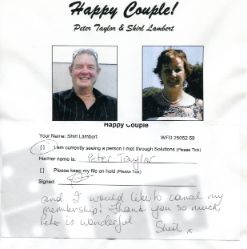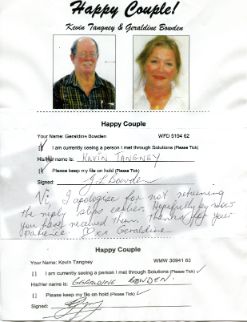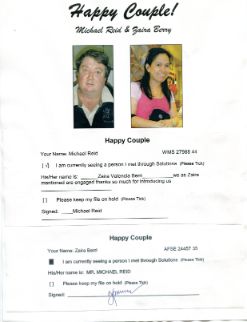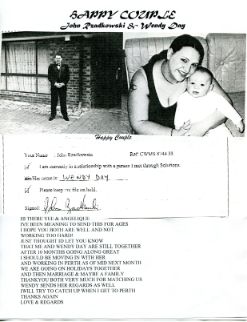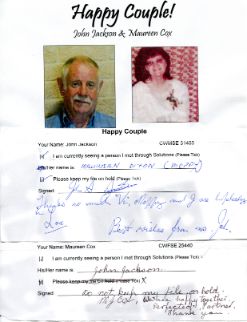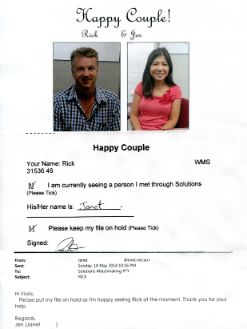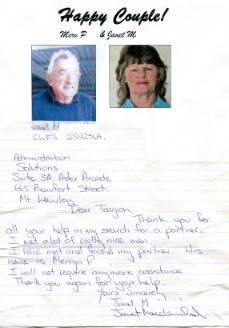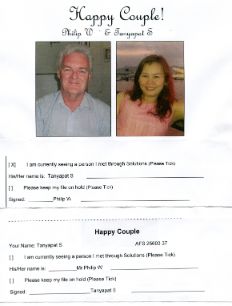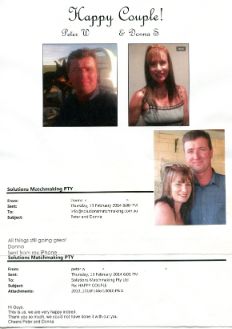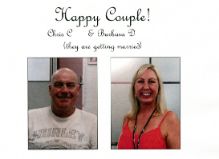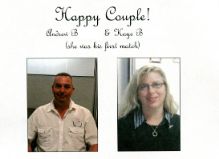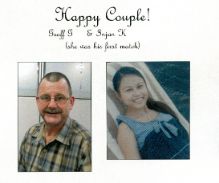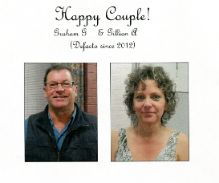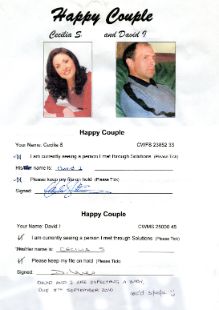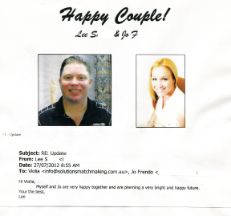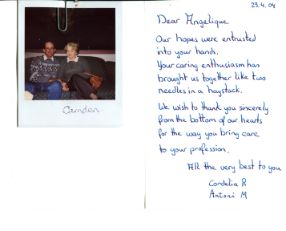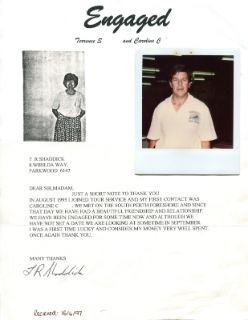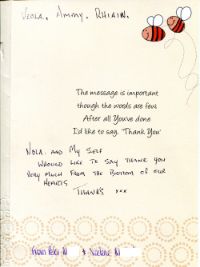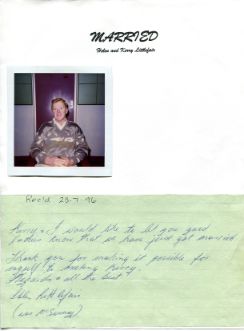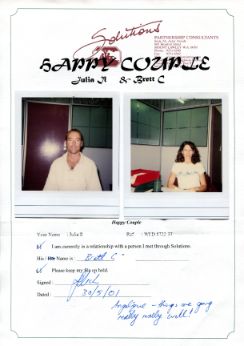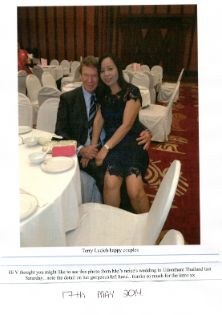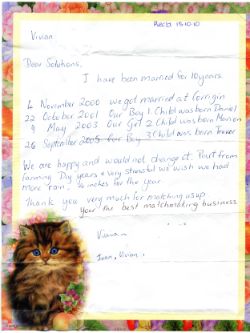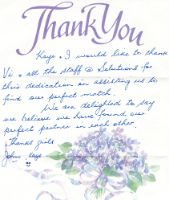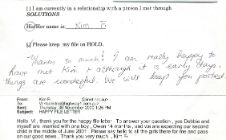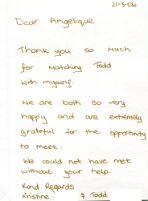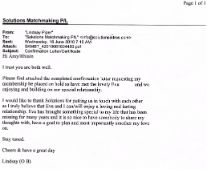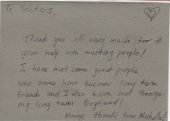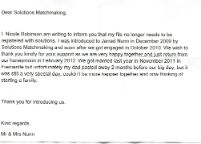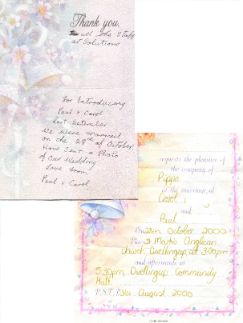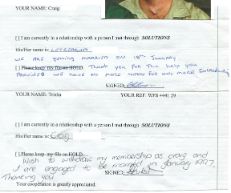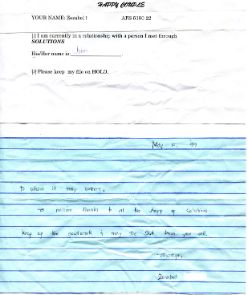 Free Review
We will then contact you immediately and upon your request, provide you with details of potential partners.
SIMPLE, FAST, EFFICIENT.
Latest Members